Three Card Monte Card Trick (#1802)
With our Custom Three Card Monte Trick, three playing cards are fanned and shown face up. The Magician asks a spectator to remember the middle card. To the spectator's surprise, upon taking the middle card from the deck, the card has changed to a message card, which is custom-imprinted with the one- or two-color logo of your choice!
The Three Card Monte makes a great promotional Magic Trick because it requires no sleight of hand. Anyone can perform the Three Card Monte Trick within minutes of reading the simple instructions that come with each Trick.
Here's how the Three Card Monte Trick works:
The Magician has three playing cards: a gimmick card, a custom-imprinted message card, and a regular card. The gimmick card features a flap that the custom message card slides into. About 1/3 of the message card gets hidden by the flap.
The cards are then spread like a fan to look like three regular cards. Next, the magician turns the cards over to show the backs and asks anyone to select the middle card, which will be the custom message card.
After the message card is withdrawn, the magician moves the gimmick card and regular card together so that the flap on the gimmick card is hidden.
These classic Three Card Monte Tricks come individually cello-wrapped. Each Trick includes the three playing cards required for the game – including one custom imprinted card – and instructions.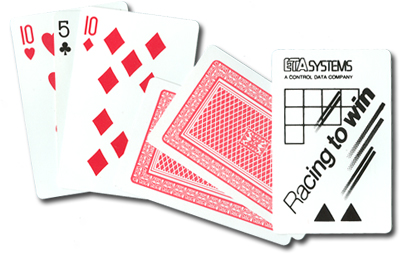 1802
Three Card Monte Card Trick with Standard Red Backs
$2.10
$1.75
$1.55
$1.35
$1.29
5T
Swipe left and right to see table.
Imprint Area:
1-3/4" x 2-9/16"
2nd Color Imprint:
$0.25 (V) per Magic Trick
Artwork Requirements:
•.ai (Adobe Illustrator)
•.psd (Adobe Photoshop)
•.eps (Vector Format)
Set Up Charge:
$75.00 (V) per design, per color
Re-Run Setup Charge:
$25.00 (V) per design, per color
PMS Color Match:
$50.00 (V) per color
Production Time:
2-3 weeks after proof approval
Rush Production (8 Business Days After Proof Approval):
$125.00 (V) per design